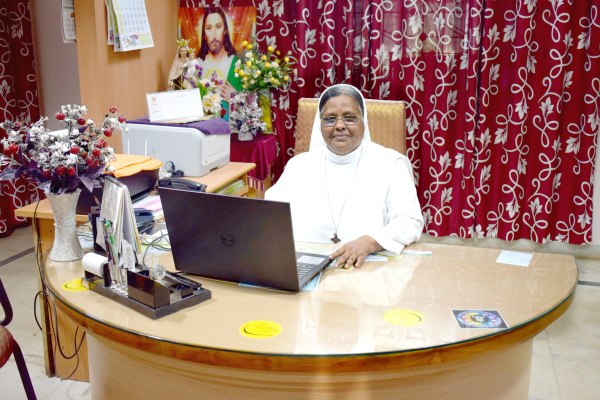 Principal's Message
Everything in the universe is tinted, shaped and destined by what we sketch with our ideas and thoughts.
We have been all the way to very conventional strategy in teaching and knowledge, but to review progress and bring sparkle in our town, Carmel is a domain of opportunities for the children of Neemuch. Our goals are positively written on paper to execute practically with achievement and happiness. The greatest progress of righteousness is to do a good deed with utter sincerity and dedication at workplace. This is indeed the strength of those trifle things which are usually ignored but we cherish and that is care and emotions of our CARMELITES. Each moment of the day, we pray to the God Almighty to bless CARMEL with sublime blessings and well protected vicinities. Our step wise manner to achieve the goal by turning ventures into victories. Carmelites step ahead with virtuous resolutions, to be as regular as a clock that works in school, as steady as rock with commitment, as sweet as honey with nature and as industrious as an ant with ambition. These attributes reinforce their identities. I wish steadfast educationists all the best for their endeavours to give correct frame for the growth of students and I hope their strategies would bring sense of security among hearts of the parents and guardians of Carmelites. 186 convents in India and Italy, Germany, America, Africa & Ruwanda. Carmel Convent Sr. Sec. School, comes under the jurisdiction of Jhabua diocese and it was founded in 1981. There are 4000 + students studying from Nursery to class XII with 125 teaching and non teaching staff.
" Good Luck and all the success "
" God Bless all !!! "

Sr. Jaya CTC
Principal