Sports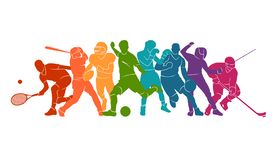 Educational Value of:-

Games

and

Sports
The importance of sports and games in school encompasses more than just the benefit of physical activity. Increases in self-esteem and mental alertness make school sports and games necessary for every school age child. Sports give us physical fitness, courage endurance, cooperation and team spirit. The players are more disciplined and fit than others. Sports and games along with education prepare us to stand up and face the challenges of life. The teaching of sacrifice is of great social and national interest.With faith in equality and justice, it enables us to take defeat and victory in a cheerful spirit.
Facilities Available in School Premises :-
Foot Ball
Volley Ball
Cricket
Hand Ball
Table Tennis
Basket Ball
Badminton
Chess
Athletics
Tender Carmelites are sporty :-
Excercise is an added fresh way to get physical and mental excercise with a fresh move.
Following sports are being conducted to exert one's strenth to push and pull the Carmelites .
Flexibility and balancing
Football
Kho-Kho
Basketball
Dodge ball
Change the ring